Your holiday home
with a box seat
Holidays in a prime location - quiet and yet right in the middle
If the ski slope is right in front of the door, you are quickly the first on the freshly groomed slopes in the morning. And just in time at the base station when the mountain lifts start operating. You can enjoy this unique advantage here at Hotelappart Peter as the top-to-bottom ski run of Gaislachkogl (mountain gondola) leads directly past our house. In summer, countless hiking trails and bike tours as well as thrilling lines of the Bike Republic Sölden can be found right on our front door - so it's time to put on your hiking boots or bike clothes and get out into unspoilt nature. Due to our impressive location, quiet yet central a little above Sölden, you enjoy fantastic panoramic views of the breathtaking Ötztal mountains. A memorable vacation right at the heart of nature.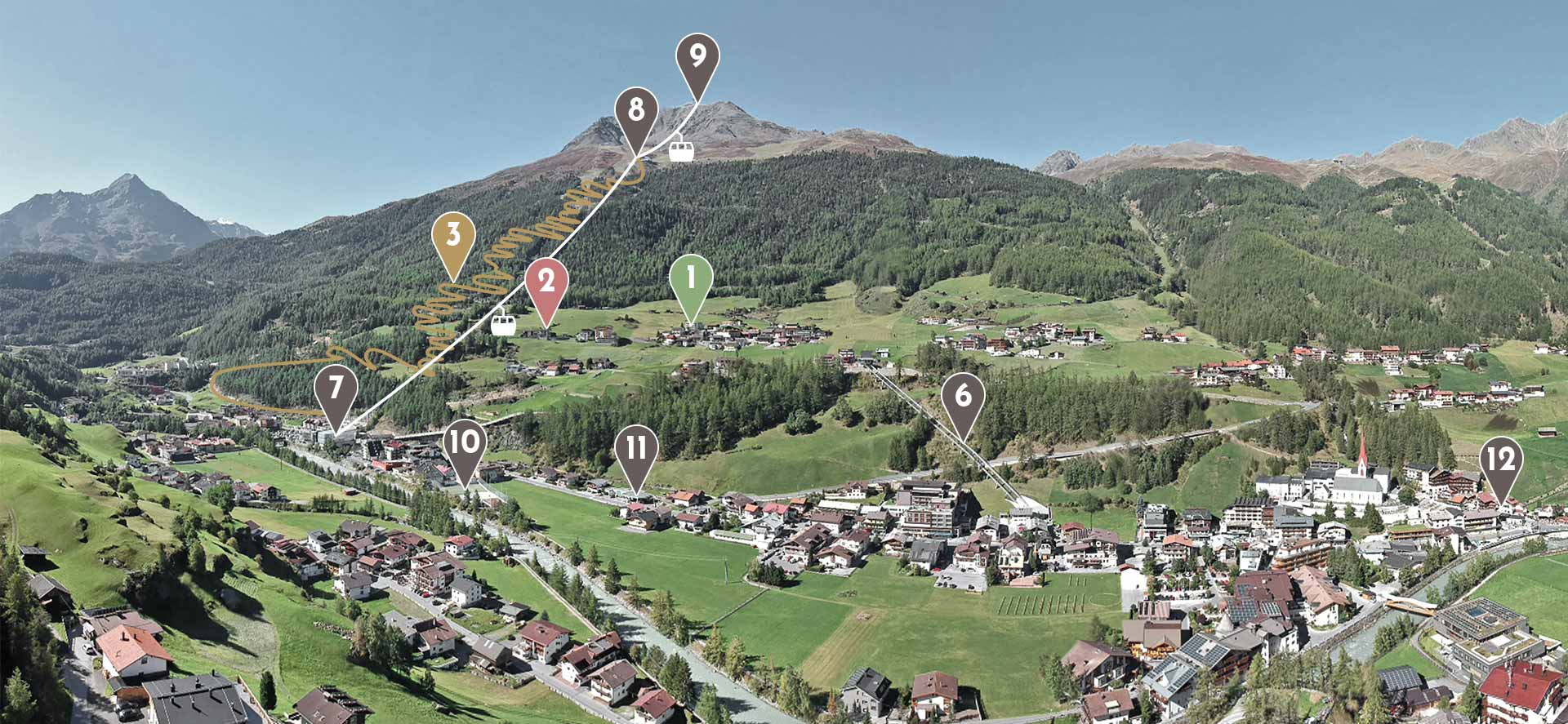 Enjoy your vacation
in a prime location
With everything you need in the immediate vicinity:

1. HOTELAPPART PETER
2. HAUS STEFANIE

3. Bike Republic Sölden (Teäre Line)
4. Ski runs or top-to-bottom pistes (pistes 8 / 9 / 10)
5. Innerwald practice area, ski school and Sporthütte shop
6. Zentrum-Shuttle (for free)
7. Gaislachkogl base station
8. Gaislachkogl middle station
9. Gaislachkogl top station, ice Q gourmet restaurant & 007 Elements
10. Sölden sports field or ice rink
11. Gas station
12. Sölden center with shops, cafés, restaurants, bars, ...
13. Waldcafé ski run
14. Chair lift
Zentrum Shuttle
Down to the village and back again ...
In our apartments and rooms you can perfectly rest and regain your energy - a bit away from the hustle and bustle of the center you can sleep well even with open windows. And if you still want to reach the village center without a car, you can do so with the FREE ZENTRUM SHUTTLE elevator that conveniently connects the hamlet of Innerwald with the vibrant life in the center. The Shuttle is available to you every day, the journey itself is literally child's play at the push of a button. The large glass façade of the 40-person cabins provide completely new views of Sölden.
The fastest way to reach Hotelappart Peter

Once arrived in Sölden, the local guidance system will take you to our holiday retreat very easily. Drive through the village center to exit N1 and turn right there. At the next junction N2, keep right again, then drive to the chapel and turn left afterwards – and you will see Hotelappart Peter. We look forward to welcoming you personally and wish you a safe journey.